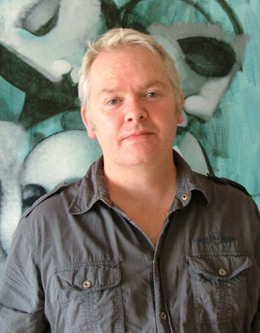 Paul was born in 1965 in Dungannon in the north of Ireland. His love for painting and drawing began in his early teens. By the time he was 16, it was to be an all-consuming passion. He was accepted for Art College in 1983, however he turned down the opportunity, as his life took a different course. It was more than ten years before he started painting again. He moved to Dublin in 1996, determined to devote his time to art, and has been painting professionally since then.
Following his first solo exhibition with the Gordon Galleries, Derry, in 1996, he had a solo show in the Guinness Gallery, Foxrock, Dublin, in 1997. Paul has exhibited throughout Ireland as well as taking part in shows in London, New York, Florence, Milan, Sydney and Beijing. His work is in Irish and International collections including the Irish Government – Office of Public Works..
His online exhibition in 2003 resulted in an Omni Award.
He has enjoyed two residences in the Cill Rialaig Arts Centre, County Kerry, in 1998 and 2004
In 2009 Paul spent six months as Artlink artist in residence, at an old abandoned military fort in Dunree, on the Inishowen Peninsula.. The experience and the work it produced, formed the basis for his one man show " Somewhere Else ", which took place at the fort. The residency and the exhibition were sponsored by the Arts Council of Ireland and the Donegal County Council..
His most recent solo show in Dublin in April, 2018 at the Sol Art Gallery, Dublin, where his work can now be seen.
Paul lives and works in Co. Donegal.
View video footage of works from Paul Kerr's Solo show which were exhibited in the Solart Gallery, Dublin in April, 2018.
Sol Art Gallery, The Times Building, D'Olier Street, Dublin 2.
http://www.solart.ie